If you do not wish to pay a professional translation company to translate your PDF files, you may translate them for free using machine translation software such as Google Translate.
Google Translate allows you to translate PDF files for free.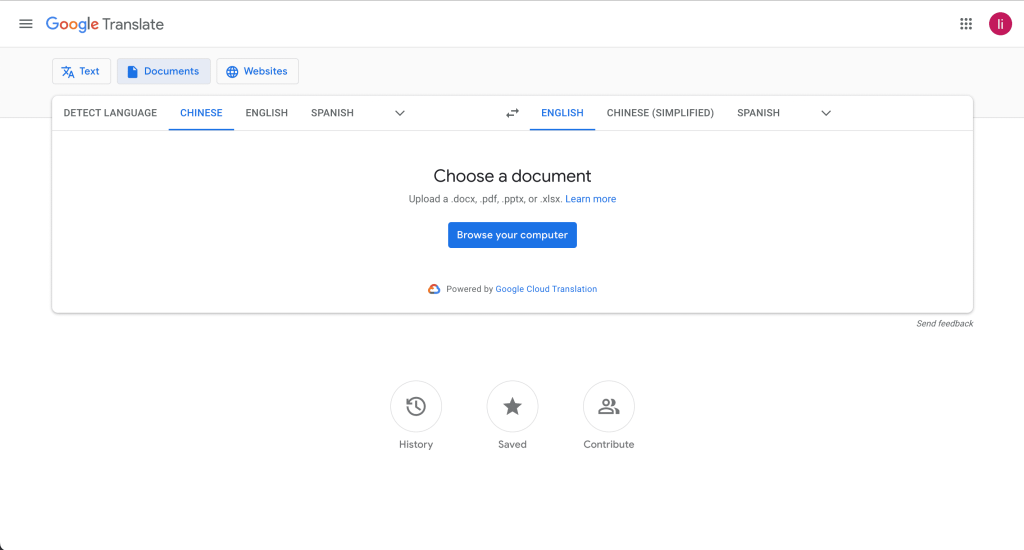 Google Translate translates PDF files directly and for free. Click here to start the process. Select the PDF file you wish to translate, then click the Translate button. Translating and displaying the file in the browser.
There are various disadvantages associated with this method.
The obvious disadvantage is that machine translation frequently produces translations of poor quality, but let's set that aside for now.
The PDF file's page layout is not preserved, and Google converts the text to HTML using default fonts.
The translation can only be saved as an HTML file and cannot be downloaded as a PDF. You can print the document in PDF format. However, the page layout will be screwed up and different from the original document.
When translating between RTL and LTR languages (for example, from English to Arabic), the orientation is not reversed, resulting in an incorrect translation.
Google is incapable of translating scanned or otherwise low-quality files.
---
---
Converting the PDF to an editable file format
Alternatively, you can translate your PDF files for free by converting them to MS Word or another editable format. You may then translate the editable file using Google Translation, Microsoft Word, or other free translation software.
Both free and paid programs can convert PDF files to Text, RTF, or Microsoft Word format. Adobe's ExportPDF is one of the best-paid applications for PDF file converting. This cloud-based solution begins at approximately $2 per month. It converts PDF files well, retaining the original page layout in most cases. Additionally, Convertio and ABBYY PDF Transformer are premium products. Google Drive is another free option for converting PDF files to editable formats.
However, these apps do not always preserve the original PDF file's page layout. If you desire the page layout to be identical to the original, you will need to put in some effort. And if the file is scanned or otherwise of low quality, the conversion to a format that may be edited may not always be successful.
---
Certified Language Services
At your fingertips are a wide range of professional language services.