Finding the most effective free grammar checker application is a challenging endeavor. You cannot manually search for grammatical faults in emails, lengthy blog posts, social media postings, documents, etc. if you have a large workload.
In addition, if you are just starting in business or as a blogger, price constraints make it nearly hard to engage a professional team to correct small grammatical errors and ensure that your text is error-free.
To assist you in identifying the best free choices for automating your grammar check, we've produced a list of the best English grammar checkers.
Let's begin!
The Top Free Grammar Checker Resources
Now that we've discussed why you should consider utilizing a free grammar checker, let's look at eight fantastic tools that can help you improve your English writing. Although all of them are free, several provide paid versions with additional capabilities if you need them.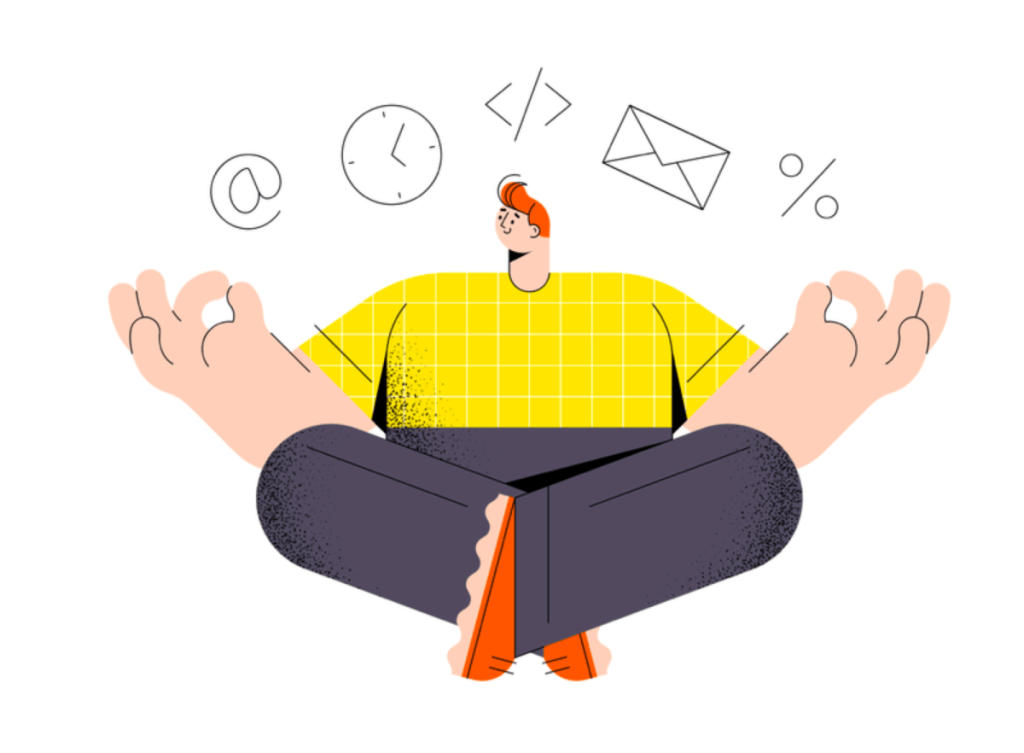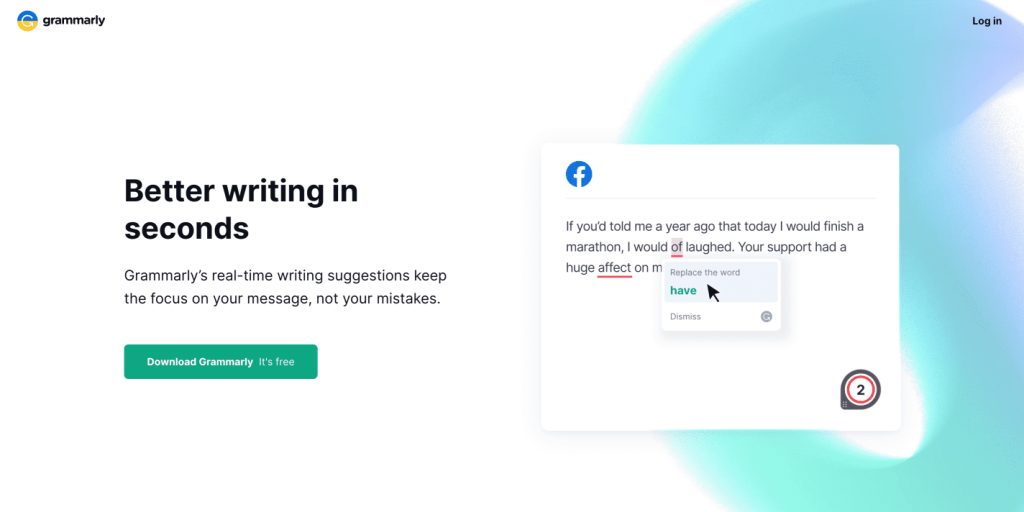 Grammarly is one of the top free tools for checking grammar, spelling, and punctuation.
It allows you to examine 100,000 characters at once. Then, simply copy and paste the material into the Grammarly editor, which will be analyzed for correctness, clarity, engagement, and delivery. A text editor-like interface makes it simple to format text with bold, italics, header tags, and other elements.
If you wish to utilize it directly in your WordPress site or emails, you may use a free Chrome or Firefox browser extension that underlines errors in red.
There is also a mobile app enabling offline proofreading of everything you write on your phone.
Grammarly Free
---
AI-powered text validation
AI-powered text validation
SSL/TLS with 256-bit AES encryption
Personal dictionary
one user per account
Compatible with mobile interface
Grammarly Premium
---
Advanced style suggestions
Better sentence structure analysis
Tone and formality level checker
Wordiness and ineffective vocabulary filter
Built-in plagiarism checker
Style consistency checker
Human proofreading (additional cost)
Inclusive language
AML SSO (for accounts with 50+ users)
Word choice
Grammarly Business
---
Everything in Premium
Style guide
Snippets
Brand tones
Analytics dashboard
Priority email support
Account roles and permissions
SAML SSO
Invoicing available for annual plans of 10 seats or more
Certified Language Services
At your fingertips are a wide range of professional language services.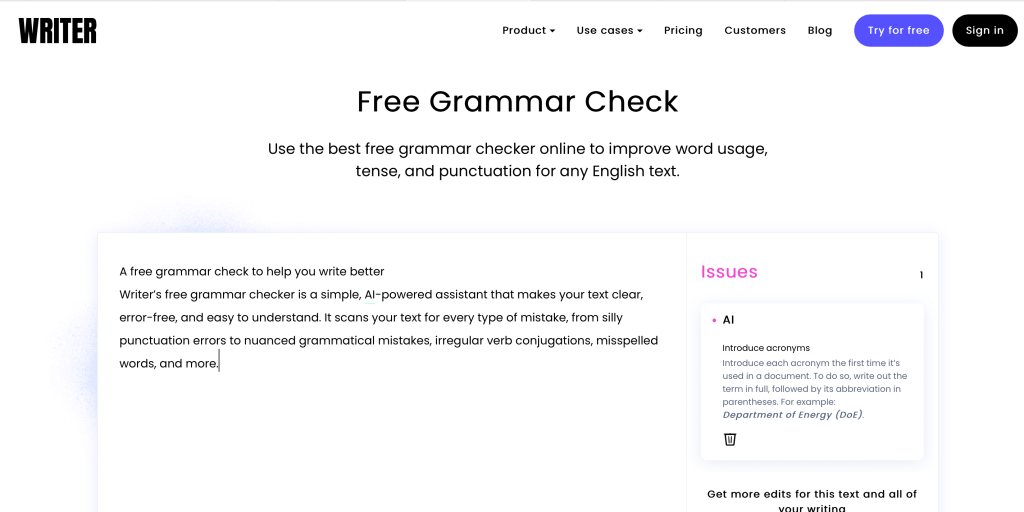 With a 4.7/5 user rating on services such as SiteJabber, Writer is among the top online grammar checkers.
The AI-powered tool is an ideal answer for copy editing everything from emails to Google Docs.
This writing tool has intelligent AI algorithms for editing and integrates with HubSpot, WordPress, Twitter, Slack, and many more.
Writer For Individuals
---
Checking for readability and language
Grammar and spelling editor
The analyzer of aspect and punctuation
Inclusivity and check for plagiarism
Verb conjugations
1-click editing
Company-approved terminology and phrases
Writer For Teams and Businesses
---
Content scoring
Up to 200 custom terms
One style guide that allows you to have a consistent writing style throughout your texts
Content security
API access and SSO (higher-tier)
EU-US privacy shield
AICPA SOC 2 and HIPAA compliance
Email support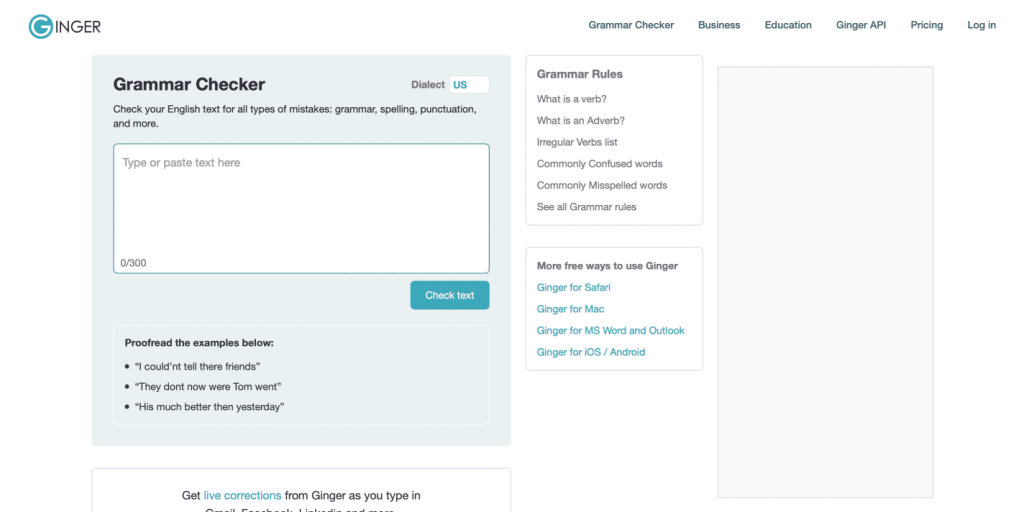 Ginger is the following tool in our best free grammar checkers list. Ginger is an online spell checker and proofreading tool. The first one is mainly concerned with spelling and grammar.
The contextual spellchecker determines the repair that best suits the original sentence's meaning. So, not only does it improve your writing skills, but it also increases your productivity.
Ginger is available as a browser extension, MS Word/Outlook integration, iOS/Android, and Windows software, as well as directly from their website.
It is ideal for checking irregular verbs and adverbs, complex wording, misspellings, and standard English grammar rules.
Ginger Free
---
Intelligent grammar and spelling checker
Concurrently proofread and compose
Available third-party integrations
Individualized training sessions
Checking the terminology management style
Information base
Ginger Business
---
Unlimited AI-powered corrections
Word definitions
Unlimited synonyms
Unlimited sentence rephrasing
40+ language translations
7-day money-back guarantee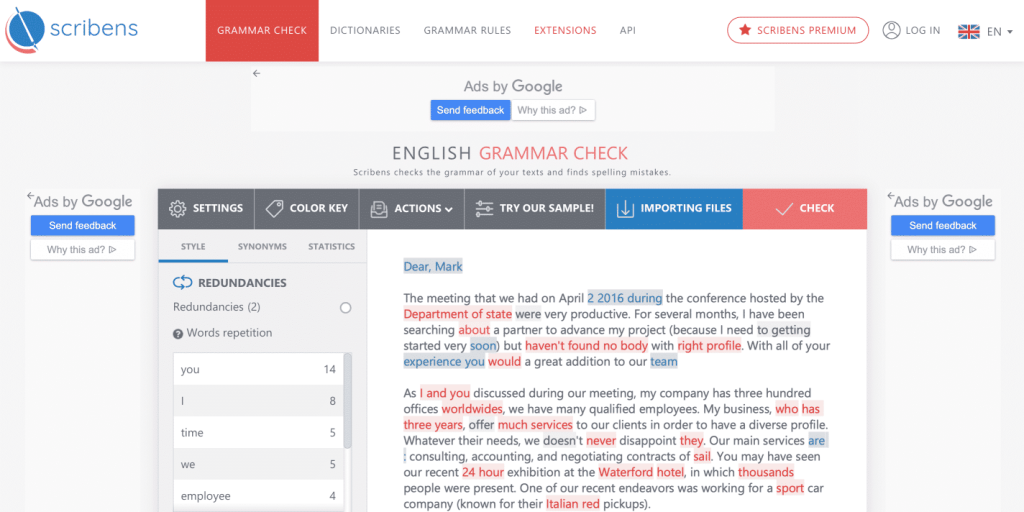 Scribens is a free grammar checker program that allows you to effortlessly check for hundreds of typos and grammar, spelling, and style issues.
Powered by complex algorithms, the software claims to be superior to Microsoft Word. For example, you can alter the vocabulary options to British or American English. Choose between manually correcting uncertain proper nouns or allowing autocorrect to do its job. It also allows you to choose the document's font size, so you don't have to change it repeatedly when editing.
The following table lists the color codes for Scribens:
Grammar – red
Verbs – green
Suggestion – yellow
Typography and punctuation (commas, etc.) – blue
Overall, it is excellent for proofreading and manually altering blog articles, but it cannot be used for more complex editing because it lacks plagiarism checking and reporting capabilities.
Scribens Free
---
Corrections to the spelling and grammar
Beginner-friendly interface
Dictionary availability
No word limit per day
Enhanced proofreading
Improvement of vocabulary
Modification and subjectivity
Windows, Mac, and browser compatibility
Scribens Premium
---
Text checks up to 200,000 characters
Microsoft Word, OpenOffice, and LibreOffice
Direct email checks (Gmail/Outlook/Hotmail/Yahoo)
Direct correction for Facebook, WordPress, and more
Backup and management of recent texts
Premium version for the French language
Multiple useful extensions
No advertising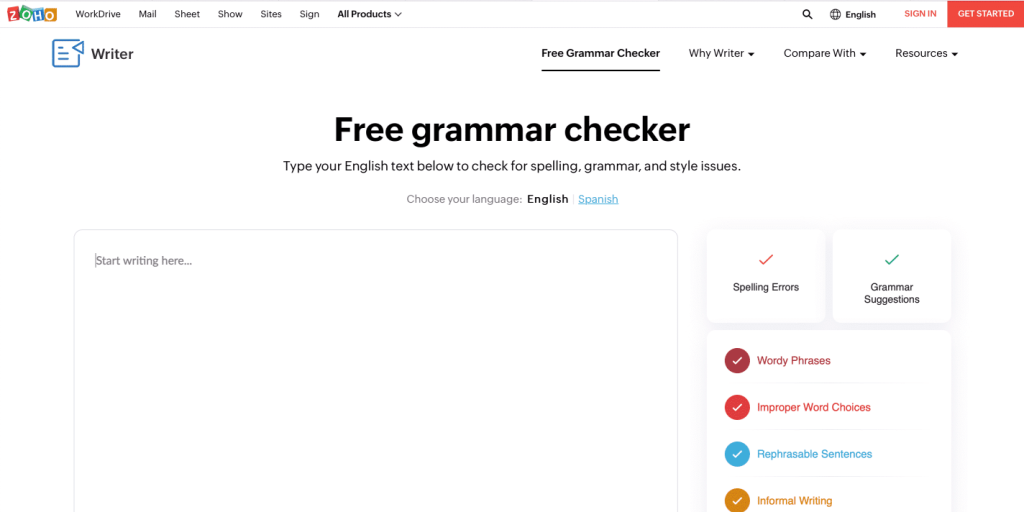 Zoho Writer is an excellent online tool for detecting misspellings, grammatical faults, and style problems. This free grammar checker solution is loaded with an abundance of useful features.
You will notice intelligent suggestions such as context-aware suggestions (such effect/affect), subject-verb agreement, redundancy, and highlighting punctuation errors.
The intelligent writing helper in Zoho Writer monitors how you employ adverbs, clichés, and passive voice. Zoho Writer, a robust word processor, is ideal for creating flawless, professional documents and files for your business.
Key Features
---
Check wordy expressions
Word choice error repair
Writing helper based on artificial intelligence
Readability analysis
Flesch-Kincaid index
Enhancing the quality of writing
Spelling and style check
Detector for polysyllabic words and run-on phrases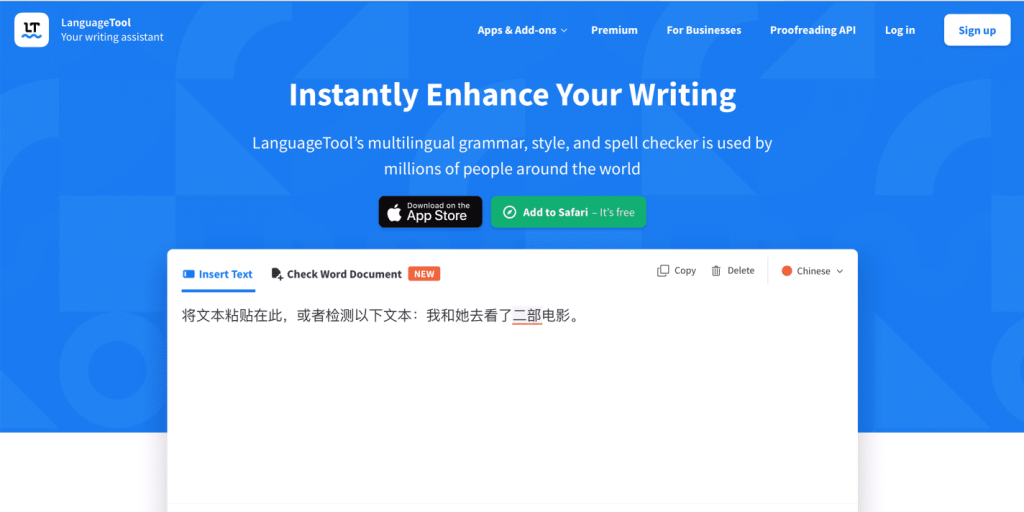 LanguageTool is an alternative to Grammarly that can be utilized as a writing aid (with a few better features).
LanguageTool checks for errors in grammar and style. Additionally, it is bilingual; you may modify information in English, German, Spanish, French, and Portuguese. This grammar checker is free for texts up to 10,000 characters long.
LanguageTool Free
---
Standard grammar and punctuation checker and style checking
Devoid of interruptions while writing
Individual lexicon
Textual evaluations of quality
Text files safely preserved
Multiple integrations
Multiple languages
Access further advice
macOS app available
Browser add-ons
LanguageTool Premium
---
Style/tone suggested corrections
Up to 60k characters per text field
Detection for incorrect names and email titles
Incorrect number detection (IBAN, ISBN,..)
Add-on for Microsoft Word
Add-on for Google Docs
User management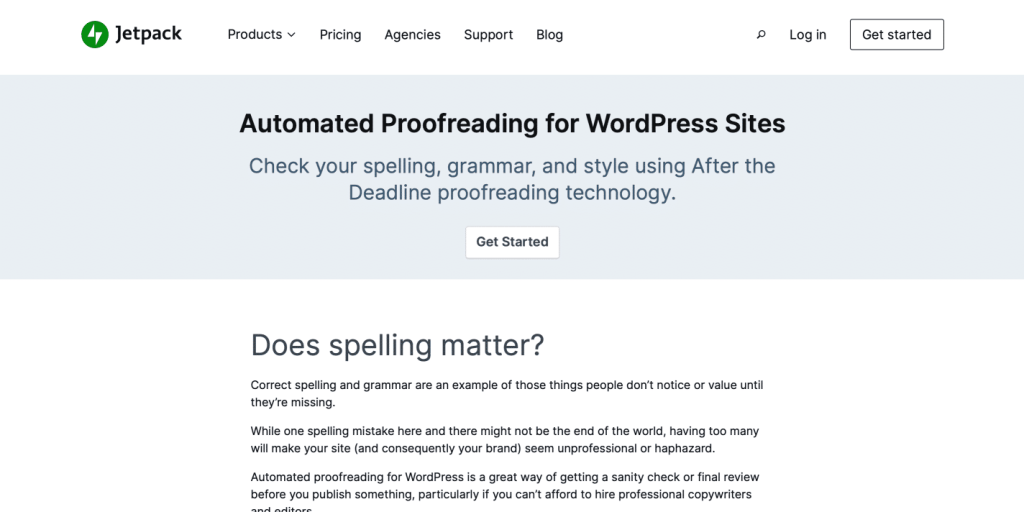 Jetpack is one of the most well-known WordPress plugins for site security, performance optimization, and other effective functions (one of which is the Jetpack proofreading module).
Simply navigate to Jetpack > Settings > Writing and enable the spelling, style, and grammar check capabilities to have your errors highlighted in the WordPress editor with the following colors:
Improper use of spelling and misspellings – Red
Grammar mistakes – Green
Style recommendations -Blue
(The Proofreading module has been removed from Jetpack since version 7.3. Therefore, this feature is only accessible if you're using an earlier version of the plugin.)
Jetpack Free Version
---
Color coding for mistake detection
English, French, German, Portuguese, and Spanish are available
Exclusive WordPress plugin
Regular updates from the team at Automattic
No hidden fees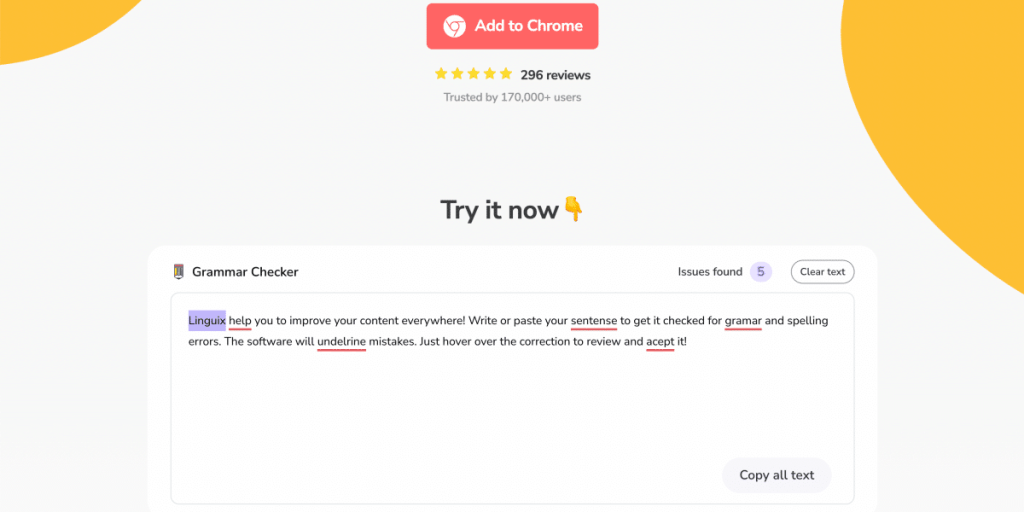 Linguix examines your writing for problems and offers context-appropriate grammar, punctuation, and style suggestions. With over 2700+ complex corrections covering thousands of issues ranging from grammar to style, the tool is more than a simple spell checker. Linguix provides extensive explanations for common problems and suggestions for improving the readability and appearance of business communications, academic papers, and personal projects.
The web application contains a private mode for editing sensitive content. This mode enables you to modify a document, after which the data associated with those changes are deleted. The browser extension assists in correcting writing errors across the web, including Google Docs, email, professional tools for content creation, and numerous chat apps.
In addition, retail and corporate customers of Linguix can develop their snippets for expedited writing. These draft texts are used to automate repetitive writing operations, such as booking meetings or sending introductions.
Integrated vocabulary suggestions assist users in adding color to their work. Linguix not only assists with writing but also with reading. Simply utilize the "Look Up in Linguix" function to obtain the definition immediately.
Key Features
---
Spelling, grammar, and style check software.
Rewriting and enhancing sentences using a rephrasing tool.
For quicker authoring, use snippets and content templates.
Advanced perceptions and readability scores
Integration of browser add-ons and third-party applications.
Team management and business dashboards
Writing insights for both businesses and individual users.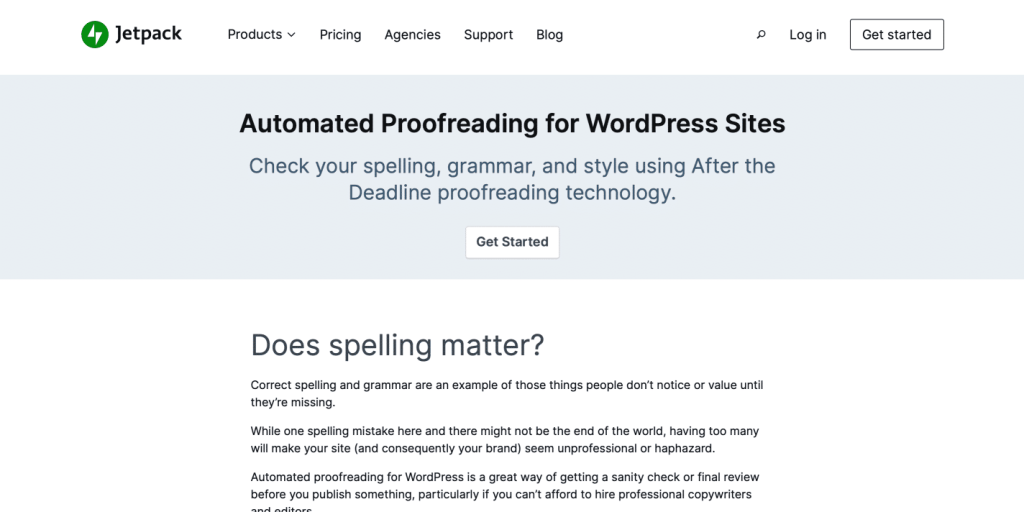 Virtual Writing Tutor is a free online platform that may be used for various purposes, including producing cover letters, reviewing essays, and training for IELTS tests.
Its use as a grammar checker provides numerous editing possibilities (even though the design looks pretty basic).
Virtual Writing Tutor can be used to check for grammar, punctuation, spelling, paraphrasing, and vocabulary errors. In addition, if you have recently started a blog, you will appreciate the built-in word count and structural checkers.
Virtual Writing Tutor Key Features
---
Term-checking tool
Academic and conversational vocabulary examination tool
Cliches and force words are examined
Error correction activity
API service for word counting and Grammar Checking
Checker of phrases
Phone and ticket-based responsive design help
Which is the best free grammar checker?
Numerous grammar tools are available, some of which are not listed here, such as Hemingway, ProWritingAid, WhiteSmoke, etc.
With a free grammar checker, you can edit your blog faster and appear more professional.
However, when it comes to precision and accuracy in error checking, only a few options have been shown to consistently deliver quality results.
Grammarly is the best option if you need a tool to check grammar while writing content.
Zoho Writer may be a better option if you're looking for a quality online tool that you'll use occasionally.
Get in touch
Maxsun International (HK) Ltd
. translates and interprets English and over 100 other
languages
. You can be assured that experienced and certified professionals provide our
language services
. The interpreters and translators in our teams are all
native speakers
. As well as subject matter experts, they can also handle unique translation and interpreting assignments. You can contact us immediately for your urgent language service needs by calling
+86-0755-82970459
. You can also email us at
Contact us
. We are open 24/7, every day of the week.