In May 2022, Maxsun Translation Shenzhen Co., Ltd. was officially granted ISO 13485: 2016 Medical Devices — Quality Management Systems — Requirements for Regulatory Purposes certification. The granting of this certification shows that Maxsun has reached an internationally leading level of professional services in the medical and medical device sector.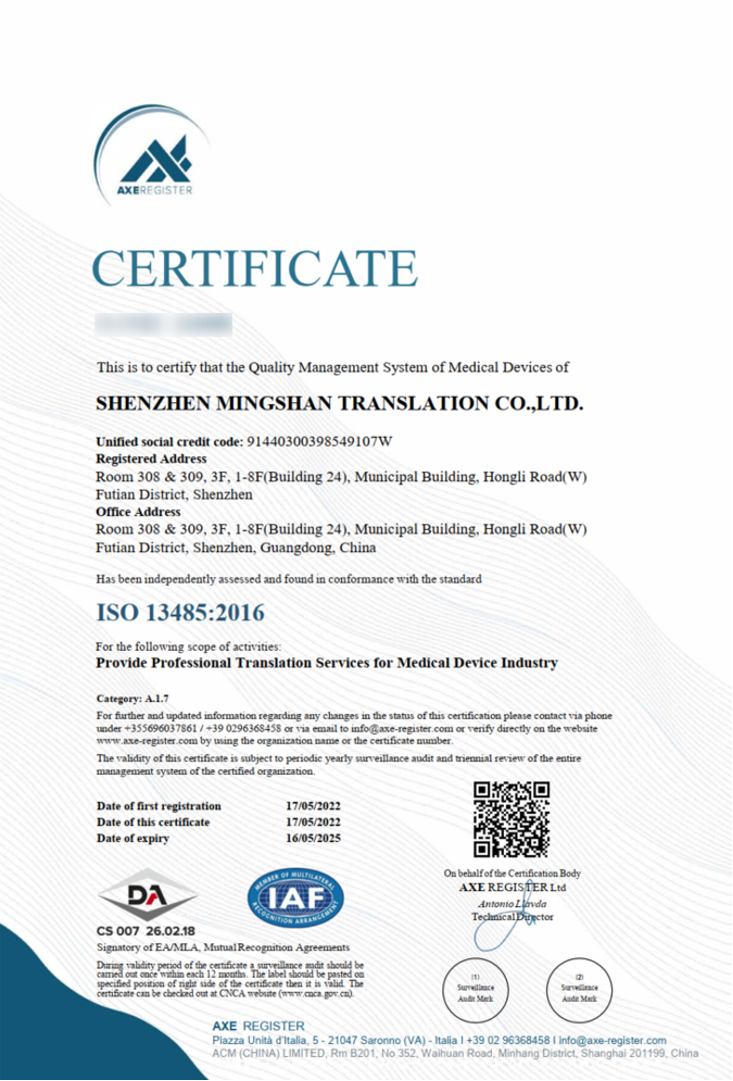 RELATED:
Maxsun Granted ISO 17100:2015 Translation Service Certification
How ISO Certified Translations Help CE MDR Certification
What Is ISO Certified Exactly? And Why Is It Important?
What is ISO 13485 Certification?
First issued in 1996, ISO 13485 primarily concerns the following products and sectors:
Non-active medical devices
Non-implantable active medical devices
Implantable active medical devices
In vitro diagnostic medical devices
Sterilization methods for medical devices
Medical devices containing/using specific substances or technologies.
Services relating to medical devices.
ISO 13485 is a standalone system based on the ISO 9001 quality management system. While ISO 9001 is a general system that covers all sectors, ISO 13485 was specifically established for the medical device manufacturing industry. Though both systems include similar requirements and content, ISO 13485 is unique in that it is deeply integrated with the medical device industry. As such, ISO 9001 quality management certification alone does not show that a service provider can meet the medical device quality management requirements of ISO 13485.
What Enterprises are Suitable for ISO 13485 Certification?
Though designed as a quality management system for the medical device manufacturing industry, ISO 13485 covers designers, operators, service providers, software and hardware developers, and parts and materials suppliers in addition to manufacturers. ISO 13485 provides a way to standardize quality requirements not just between customers and providers, but also different enterprises by integrating the quality management standards of enterprises both upstream and downstream of the medical device industry.
As suppliers to both upstream and downstream enterprises, language service providers (LSPs) that offer professional language services for the medical device industry are also eligible for ISO 13485 certification, which serves as an indicator that the certified LSP can meet the international industry standards of medical device enterprises.
Why do Language Service Providers Need ISO 13485 Certification?
Both translation and language services as a whole constitute a type of service provided to the medical device industry. The ISO 13485 standard "specifies requirements for a quality management system (QMS) where an organization needs to demonstrate its ability to provide medical devices and related services that consistently meet customer and applicable regulatory requirements".
Closely related to human lives and health, the medical device industry has always maintained high-quality management standards and has been subject to some of the most stringent certification and access systems across a variety of different countries and regions. In the process of international certification, access, and sales, medical device manufacturers require high-quality multilingual translation services to ensure that product documentation can facilitate market entry through technical certification, and withstand the test of users from different linguistic and cultural backgrounds.
The ISO 13485 standard can help enterprises in the medical device industry better identify quality LSPs during the procurement of translation services. ISO 13485 certification means that LSPs:
Have a comprehensive QMS that meets the requirements of international standards for the medical device industry.
Have established a formal partnership with customers in the medical device industry.
As such, ISO 13485 certification services as a mark of confidence for medical device manufacturers searching for an LSP with professional qualifications to facilitate internationalization and market entry.
With over 10 years of industry experience, the elite team at Maxsun offers a variety of professional language services to corporate clients, including translation and localization, technical writing, copywriting, interpretation, subtitling, and dubbing. By helping companies navigate the hurdles of globalization, Maxsun delivers value through language. Maxsun is a trusted and reliable partner for all your language service needs. As of writing, Maxsun has received certification for both the ISO 9001 (Quality Management Systems) and ISO 17100 (Requirements for Translation Services) standards. Please contact us if you wish to learn more.
---
Get in touch
Maxsun International (HK) Ltd
. translates and interprets English and over 100 other
languages
. You can be assured that experienced and certified professionals provide our
language services
. The interpreters and translators in our teams are all
native speakers
. As well as subject matter experts, they can also handle unique translation and interpreting assignments. You can contact us immediately for your urgent language service needs by calling
+86-0755-82970459
. You can also email us at
Contact us
. We are open 24/7, every day of the week.