To get an instant quote for German translation services, please CLICK HERE.
The Most Outstanding German Translation Agency
MAXSUN is a translation company that specializes in providing high-quality, professional German translation services through the use of a vetted team of native-speaking German translators located in-country. Our regional office in Bonn, Germany, manages projects and delivers services to clients in Germany and throughout the world.
MAXSUN has been a major provider of German translation services to Fortune 500 firms for more than 15 years.
We provide skilled translation services from German to English and English to German in various fields, including technical, medical, legal, patents and intellectual property papers, software, engineering, and financial. We have a track record of success in offering German translation services: some of the major firms in Germany, including Siemens, Infineon, SAP, and Deutsche Telecom, are among our clients.
German Translations Needed Right Away
If you require expedited delivery of German documents, our team can assist you and deliver the content on time. We offer competitive pricing. To obtain a no-obligation quotation for translation services, please click here. To learn more about the rates for German translation services, please click here.
German Website Translation – Professional and Free
You can use our MAXSUN Website Translator to convert online pages to German, Spanish, French, or Italian for free. Or, for professional German website translation, you may receive 24/7 quotes online. We give professional website translation services at very reasonable rates.
If you have a website or blog that is powered by the WordPress content management system, you can install our MAXSUN WordPress plugin to enable automatic translation into over 30 languages.
Certified German Translation Services
MAXSUN is a certified translation company: our Quality Management System has been audited and found to comply with ISO 17100:2015 and ISO 9001:2008 standards. MAXSUN is a recognized German translation company that specializes in medical, technical, and legal materials.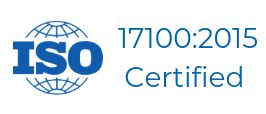 Continue reading: What Is ISO Certified Exactly? And Why Is It Important?
Translation Dictionaries and Translation Memories in German
With millions of words translated from English to German and German to English, we offer huge collections of German-language terminology in various fields. In addition, our usage of translation memory software provides the highest level of quality, consistency, and cost-effectiveness in all of our work.
---
Get in touch
Request a quote or connect with our team to learn more about Maxsun's language services.