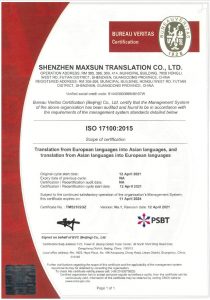 On April 2021, Maxsun Translation Shenzhen Co., Ltd. was officially granted ISO 17100:2015 (Requirements for Translation Services) certification. The awarding of this certification marks an important milestone for Maxsun and indicates that the company provides advanced international standards in all aspects of its operations, from the quality of translation services to process controls and translator qualifications.
What is ISO 17100 Certification?
ISO 17100 is a set of language service provider (LSP) standards issued by the International Organization for Standardization (ISO). Built on the EN 15038 quality standards issued by the European Committee for Standardization in 2006, ISO 17100 further optimized and supplemented specific requirements for LSPs in a wide variety of translation scenarios. ISO 17100:2015 has been in effect since 2015 and represents the first set of international LSP standards.
What Does ISO 17100 Certify?
ISO 17100 provides a clear framework of specifications and definitions for all aspects of LSP management, including human resources, technical resources, business operations, internal documentation, and training. ISO 17100 certification ensures that customers can obtain professional translation services that meet the international standards for LSPs.
ISO 17100 defines strict requirements for the translator resource standards of LSPs. All translators must have written proof of one of the qualifications below.
An institution of higher education issues a degree in translation.
A degree issued by an institution of higher education, along with at least two years of full-time professional translation experience.
Over five years of full-time professional translation experience.
Process
The ISO17100 standards strictly define the technical steps and prescribed actions required in the translation service process to ensure that customer demands are satisfied in a standardized manner.
Translation: In addition to converting a document from the source to the target, this process also includes self-review from the translator throughout the entire workflow.
Revision: All revisions must be performed by a professional linguist other than the translator. In addition to comparing the target text with the source text, the revisor also checks for any translation issues and confirms that the translated document meets its intended purpose.
Review: Evaluates the suitability of the translation for its purpose and sector and provide suggestions for improvement.
Proofing: Checks and verifies the translation quality by relevant specifications before formal delivery.
Final Verification and Release: Final quality assurance based on project specifications, then release to the customer.
Unlike EN 15038, the ISO 17100 standards also include a process for collecting and processing customer feedback after delivery. LSPs are required to proactively evaluate their services and improve quality through upgrades and optimization to provide a more comprehensive assurance of customer interests.
The standards require that in addition to professional translation tools and platforms for production, quality assurance, and linguistic asset management, LSPs must also ensure that data can be stored, exchanged, and backdated through supporting software to provide the necessary assurance for internal and external communication and data queries.
What Does ISO 17100 Certification Represent?
Localization Leads need different companies that provide standardized and high-quality services from all the other LSPs on the market. When every provider claims that they can meet your localization requirements, with one after the other boasting of higher-quality services at lower prices, companies need a way to separate the wheat from the chaff. ISO 17100 certification provides Localization Leads with the ability to immediately identify LSPs with high quality, standardized, and reliable processes from a sea of options. Working with an ISO 17100-certified LSP ensures that your language requirements will be handled by an experienced project management team, linguists with industry expertise, and assured through professional automation tools and platforms. Certification also guarantees that all documents and data are stored safely and traceably.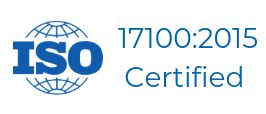 If you are a linguist or other industry professional, working with an ISO 17100-certified LSP means that your interactions are protected and respected in accordance with international industry standards. Naturally, certified LSPs also offer more opportunities to work with global business leaders across a wide variety of industries and provide more security and possibilities for your career. With over 10 years of industry experience, the elite team at Maxsun offers various professional language services to corporate clients, including translation and localization, technical writing, copywriting, interpretation, subtitling, and dubbing. By helping companies navigate the hurdles of globalization, Maxsun delivers value through language. Maxsun is a trusted and reliable partner for all your language service needs. As of writing, Maxsun has received certification for both the ISO 9001 (Quality Management Systems) and ISO 17100 (Requirements for Translation Services) standards. Please contact us if you wish to learn more. RELATED: What Is ISO Certified Exactly?And Why Is It Important?
Get in touch
Connect with our team to learn more about Maxsun Translation Services.